Credits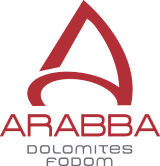 © Copyright
Arabba Fodom Turismo
Via Mesdì, 66/A-B - Arabba
32020 Livinallongo del Col di Lana
BL - Italy

Arabba Fodom Turismo via Mesdì 66A-B Arabba 32020 Livinallongo del Col di Lana
VAT no.: 00685910259
Recipient Code: T04ZHR3
Legal representative: Michela Lezuo
© Design, concept, realisation & hosting
Zeppelin Group Ltd.
Via Kuperion, 34
I-39012 Merano
South Tyrol - Italy

Tel +39 0473 49 86 00
Fax +39 0473 49 86 01
© Destination Management System
feratel media technologies srl
Via Guella, 3
38066 Riva Del Garda
Trentino Alto Adige - Italy

Outdooractive Srl
Via Vintler 6A - Vintlerstrasse 6A
39100 Bolzano - Bozen
corp.outdooractive.com
outdooractive:
This website uses technology and content from the Outdooractive Platform
Photos and videos
Arabba Fodom Turismo, Nicolò Miana, Matteo Agreiter, Roberto De Pellegrin, Roberto Grones, Studio 2000 Hertz, Alex Moling, Freddy Planinschek, Jessica De Vallier, Daniela Crepaz, Marco Tasser,
Francesco Tremolada, Dolomiti SuperSki / wisthaler.com, Pexels-Olia-Danilevich, Sellaronda MTB Tour / Andrea Costa.
Texts
Staff Arabba Fodom Turismo, Zeppelin
EU Regulation No. 524/2013 on online dispute resolution: The European Commission provides a platform for online dispute resolution (ODR), which can be accessed at
https://ec.europa.eu/consumers/odr/
. Consumers can use this platform to resolve contractual disputes between traders and consumers arising from online sales and service contracts.
Email address of the website operator: